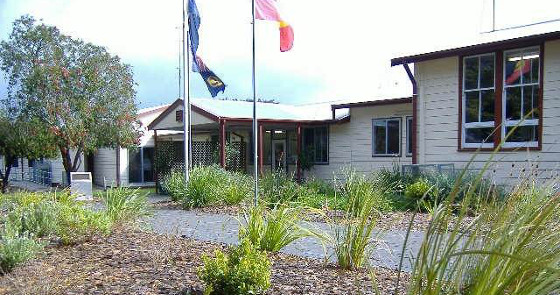 Parndana Campus is a P-12 site of 159 students and is located in the center of Kangaroo Island in the rural township of Parndana. A strong community feel is a key feature of the campus as students' transition from Playgroup to Preschool and then to Reception and their formal years of Schooling through to Yr 12.
Strong academic and vocational pathways are encouraged as well as a focus on being community minded and being a valuable citizen. Agricultural Science is a major curriculum focus. The school's "farm" comprises of 10 hectares and provides for a programme including animal husbandry, cropping, apiary and horticulture. In 2004 the KI Skills Centre was opened to develop aquaculture into the learning programme as a focus of the Parndana school community for Kangaroo Island Community Education. The Centre is a "re-circulating aquaculture system" in which Barramundi are farmed. The Centre allows students to engage in real life learning with transferable skills and we welcome and encourage visitors to come and see for themselves the wonderful learning that develops from it. The areas of "aquaponics" (aquaculture plus hydroponics) and sustainability are explored by students through their learning programmes.
Facilities such as a gymnasium, swimming pool, professional kitchen and civil construction facility are all on site as well as a school library and community hub which is situated at the entrance to the Library.
Matt Linn
Head of Campus